We learned a few things about Luna the Sea Otter in one of the many shows available at the Monterey Bay Aquarium. These animals are so cute!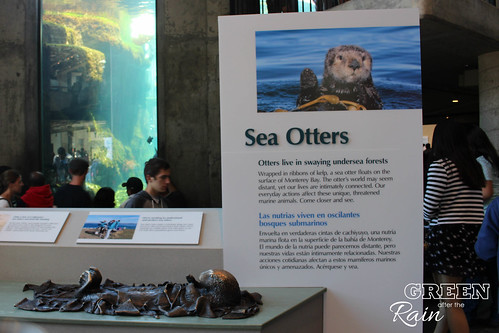 The Sea Otters exhibit is just off to the right of the front lobby area. If you're lucky you can even see one of the Sea Otters on exhibit diving down in the pool. That would make a perfect view form the 2-story display tank.
I managed to catch a quick glance before the sea otter swam back up to the top, and I wasn't fast enough with my camera.
When I made my way upstairs to see the surface of the water, this was my initial view. Lots of people standing in front of each of the display windows. I just had to be patient and made my way in when someone walked away.
There are 3 Southern Sea Otters on exhibit here; Abby, Gidget, and Rosa. You can sort of see the differences between each of them from the display images but I had no idea which was which when I saw them in person.
Although it is a very deep tank, it really did not seem very big when viewing from the 2nd story. But I guess that allows us to see the Sea Otters for sure.
I had no idea we had these cute Sea Otters native to the California Central Coast from San Mateo County in the north to near Santa Barbara in the south. The show we watched explained that the Southern Sea Otters had actually almost disappeared from these waters (as they already did from Baja/Southern California, Japan and Russia).
Although I didn't see any along the coast, they say they are usually very easy to spot. The Monterey Bay Aquarium studies the Southern Sea Otters in the wild to better protect them. We don't want them to disappear! I need to be able to easily see them in the water next time I'm back.
Did you know that Sea Otters do not have a think layer of blubber as whales do to keep them warm? Instead they have a very think body of fur. They spend most of their day grooming their fur to keep it water proof.
Sea Otters eat crabs, snails, urchins, clams, mussels etc. And they like humans know how to use tools to open them up. They know to smash the shelled animals against rocks to open them up and eat.
Can you imagine the sea otter in the pictures above as holding a crab or a sea urchin?
The afternoon sun made it much easier to take pictures of the sea otters in the exhibit. And by the afternoon, the sea otters decided to bring out some toys. It's is so adorable seeing them hanging out in the water on their back hugging their toys. I guess in the wild the toys would be their food or even a baby?